Need to get in touch with us?
You can find our Automotive, Consumer and Communications division contacts by clicking on the arrows below.
Automotive Electronics Contacts
5705, 5017 Enterprise Parkway
East Syracuse, NY 13057
780 Highway 74 South
Peachtree City, GA 30269
Consumer Electronics Contacts
5717 Enterprise Parkway
East Syracuse NY 13057
1635 S 5070 West
Salt Lake City, UT 84104
Communications Division Contacts
5703 Enterprise Parkway
East Syracuse, NY 13057
Check Repair Status Information Center
Frequently Asked Questions
A. Generally, evaluations will be completed within 3-5 business days.  Once the evaluation is complete, the technician will be able to determine the next course of action (ie: order parts, make an estimate, more testing).
A. United Radio does not sell parts; however, we do sell accessories.
A. Sorry, United Radio does not sell or repair scanners.
We have begun to repair amateur ham radios.
A: You have 30 days from the ship date.
A. You will need to contact a Customer Service Representative to set up a repair. We are unable to do exchanges on damaged units.
A. This would depend on what is needed for the repair. If a part is needed to be ordered, that will increase the time of the repair.
A. We request credit card information at the time of arrival, however your card will not be charged until the unit is ready to ship.
A. Yes!  Our Customer Service group will be in contact by phone and/or email.  We also have a live chat feature that is available as another form of communication with our customers.
A. Appropriate face covering is required to enter the building:
Automotive Electronics: open between  8:30 a.m. and 5:30 p.m., no appointment necessary (Automotive clusters please go to our 5717 building).
Consumer Electronics: by appointment only, please call 315-446-8700, to schedule product drop-offs and pickups.
Communications Division: open between  8 a.m. and 5 p.m., no appointment necessary.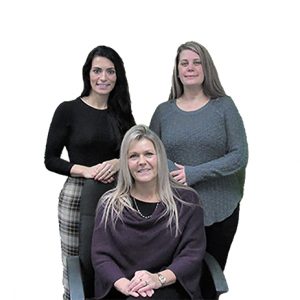 We put customer service above everything else. Our friendly and personable customer service representatives are available to help you.
Dedicated. Inspired. United. 
Sara Farley shares a UR core value related experience
One United Radio core value state, "We have a responsibility to each other to create a better community. Sara Farley, a business and systems analyst in our IT department recently shared why she believes in this core value. Here is her story:
I began with mixed feelings about being selected to serve on a grand jury for six weeks. I was excited to be able to see our criminal justice system up close but also not so excited to be elected as the secretary for my jury group. This means I could not just come in and serve my civic duty, but I had to be very much involved and accurate with what I was documenting and what I was hearing. Talk about pressure.
Each day we served we would have anywhere between 2 to 7 prosecutors come in back-to-back and present their cases. They were mostly presented in the form of witnesses, documents, and surveillance videos. Depending on the crime, the time spent presenting the case and voting could be anywhere between 15 minutes to several hours. Once all evidence has been presented to the grand jury, the prosecutor reads the charges and law pertaining to those charges out loud to the jury panel. They may also read any definitions pertaining to those charges. If no questions from the jury, all parties that are non-jury panel leave the room for each charge to be voted on separately. The deliberation and voting are done in private.
For those who may not know, the purpose of a grand jury is to formally charge people accused of felonies, or to not charge if there is not enough evidence believed to do so. At least 12 of the 23 jurors must agree there is enough evidence for a trial to indict.
In the end I came away from my time at the courthouse with a real appreciation for grand juries and our justice system. There is a saying "A grand jury will even indict a ham sandwich". The reputation to some extent is justified, but from my experience on a jury panel this was not always the case. I am confident in the decisions we made collectively as group as everyone had the same motive to try and help keep Onondaga county as much safer as we were given the opportunity to.
When asked if I would come back and serve again without having to be told to do so, I most certainly would. I really enjoyed the experience and even would want to serve as secretary again.
Read More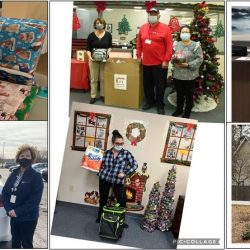 United Radio events help make holidays happier for those in need
There were several events were held within our United Radio family and resulted in donations within their respective community during the 2021 holiday season.
These are all great examples of our United Radio core value: We have a responsibility to each other to create a better community.
Missy Hubbard held her annual collection. This is one of several boxes of contributions for this year's family in need gathered this year.
Mark and Denise Nettnin with one of many trunk loads of donations to this year's Hospice Christmas family. Donations were also collected through raffles and Jeans-Day events.
Money raised from the ticket sale from the PTC Wooden Flag raffle was turned over to Margaret Bryan Turman, Director of Nursing of Sacred Journey Hospice in Newnan, GA. The money will go to 14-year-old twins whose dad passed last week.
Peachtree City held a toy drive for Toys for Tots. We collected 1 big box of toys that will be distributed to the children in our community through the Georgia Southside Toys for Tots. The toys were picked up by Mr. Darryl Meadows. One toy donated, got one raffle ticket to win a rolling cooler. Brandy Morris won!
Employees at our Salt Lake City facility held a raffle for a United Radio family member in need. According to Alia Elu, "We were able to raise $330 for this individual!"
Thank you very much to everyone who donated!
United Radio Core Values:
All people have inherent value.
Our differences make us stronger.
Family sustains, stabilizes, and defines us.
Learning, growing, and accepting challenges enriches and fulfills our lives.
We have a responsibility to each other to create a better community.
Honesty and integrity will build lasting relationships.
Read More