Need to get in touch with us?
You can find our Automotive, Consumer and Communications division contacts by clicking on the arrows below.
Automotive Electronics Contacts
5705, 5017 Enterprise Parkway
East Syracuse, NY 13057
780 Highway 74 South
Peachtree City, GA 30269
Consumer Electronics Contacts
5717 Enterprise Parkway
East Syracuse NY 13057
1455 South 5000 West Suite C
Salt Lake City, UT 84104
Communications Division Contacts
5703 Enterprise Parkway
East Syracuse, NY 13057
Check Repair Status Information Center
Frequently Asked Questions
A. Generally, evaluations will be completed within 3-5 business days.  Once the evaluation is complete, the technician will be able to determine the next course of action (ie: order parts, make an estimate, more testing).
A. United Radio does not sell parts; however, we do sell accessories.
A. Sorry, United Radio does not sell or repair scanners.
We have begun to repair amateur ham radios.
A: You have 30 days from the ship date.
A. You will need to contact a Customer Service Representative to set up a repair. We are unable to do exchanges on damaged units.
A. This would depend on what is needed for the repair. If a part is needed to be ordered, that will increase the time of the repair.
A. We request credit card information at the time of arrival, however your card will not be charged until the unit is ready to ship.
A. Yes!  Our Customer Service group will be in contact by phone and/or email.  We also have a live chat feature that is available as another form of communication with our customers.
A. Appropriate face covering is required to enter the building:
Automotive Electronics: open between  8:30 a.m. and 5:30 p.m., no appointment necessary (Automotive clusters please go to our 5717 building).
Consumer Electronics: by appointment only, please call 315-446-8700, to schedule product drop-offs and pickups.
Communications Division: open between  8 a.m. and 5 p.m., no appointment necessary.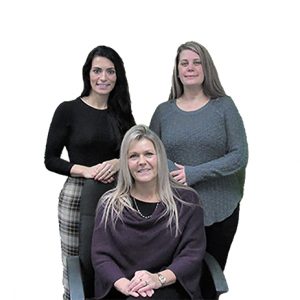 We put customer service above everything else. Our friendly and personable customer service representatives are available to help you.
Dedicated. Inspired. United.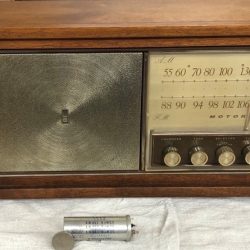 Radio repair leaves owner "over the moon"
When Corey Martino took over as manager of the Land, Mobile, Radio Service within the Communications Division at United Radio, he wanted customers to know that his staff was willing to look at any communications product for repair.
After all, when it comes to repairing communications products, especially two-way radios, no one does it better than United Radio.
Recently, John Prete walked into United Radio with a vintage 1960's Motorola radio that needed to be repaired. The radio has tubes inside it and requests to repair tube radios are not as common for United Radio as it once was.
Regardless, Corey and David Bunch accepted the challenge and went to work to diagnose the issue. "Once we opened the back of the radio, we saw right away what the issue was," said David. "After hearing Mr. Prete's story that the radio was a gift from his brother, who had passed, we wanted to take extra precaution and make sure we approached this particular repair process correctly."
Fortunately for Corey and David, they were able to consult with Jim Fellows, United Radio's Director of Technical Development. Jim has well over 50 years' experience with communications technology repair and is quite familiar with repairing tube radios.
Jim explained, "It was a 1960's Motorola brand radio and as soon I heard the radio, I knew the problem," he said. "It was a filter capacitor. It's actually the single most common problem in equipment like this."
Once Jim confirmed the problem, David set out to replace the filter capacitor. Since the original part is no longer available, David had to put in three individual filter capacitors to correct the problem.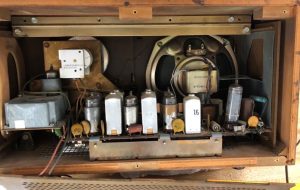 "It was cool working on a special project like this and learning things about repairing old radios," said David. "For example, when we work on some radios, the first thing we do is to plug it in to diagnose the problem. However, Jim told us you don't immediately plug in older tube radios to diagnose them. Special procedures are required when servicing them."
The radio was successfully repaired and returned to Mr. Prete.
"I was just over the moon with the service I received from United Radio," he said. "The radio is now actually able to get more channels than before the repair and sounds great. I can't thank United Radio enough for the great customer service that I received."
"We've seen such an increase in customer satisfaction since we've started taking in every type of communications product and working on it," said Corey. "We've had people telling their friends and family members about our repair service and we've had more and more people contacting us asking if we can fix their communications product.
We're doing everything we can to try and fix their product. Even if we can't provide a fix, customers are just happy with the level of service that we could provide and listening to them and trying to help them out.
Customers are so grateful that we were able to save them some money by pointing them in another direction for repair. We've actually had people offering us tours of their facilities. It feels that great we are helping out all these people."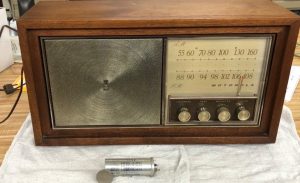 Read More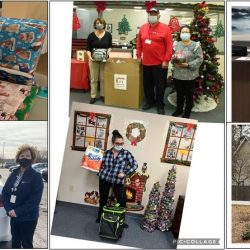 United Radio events help make holidays happier for those in need
There were several events were held within our United Radio family and resulted in donations within their respective community during the 2021 holiday season.
These are all great examples of our United Radio core value: We have a responsibility to each other to create a better community.
Missy Hubbard held her annual collection. This is one of several boxes of contributions for this year's family in need gathered this year.
Mark and Denise Nettnin with one of many trunk loads of donations to this year's Hospice Christmas family. Donations were also collected through raffles and Jeans-Day events.
Money raised from the ticket sale from the PTC Wooden Flag raffle was turned over to Margaret Bryan Turman, Director of Nursing of Sacred Journey Hospice in Newnan, GA. The money will go to 14-year-old twins whose dad passed last week.
Peachtree City held a toy drive for Toys for Tots. We collected 1 big box of toys that will be distributed to the children in our community through the Georgia Southside Toys for Tots. The toys were picked up by Mr. Darryl Meadows. One toy donated, got one raffle ticket to win a rolling cooler. Brandy Morris won!
Employees at our Salt Lake City facility held a raffle for a United Radio family member in need. According to Alia Elu, "We were able to raise $330 for this individual!"
Thank you very much to everyone who donated!
United Radio Core Values:
All people have inherent value.
Our differences make us stronger.
Family sustains, stabilizes, and defines us.
Learning, growing, and accepting challenges enriches and fulfills our lives.
We have a responsibility to each other to create a better community.
Honesty and integrity will build lasting relationships.
Read More