Need to get in touch with us?
You can find our Automotive, Consumer and Communications division contacts by clicking on the arrows below.
Automotive Electronics Contacts
5705, 5017 Enterprise Parkway
East Syracuse, NY 13057
780 Highway 74 South
Peachtree City, GA 30269
Consumer Electronics Contacts
5717 Enterprise Parkway
East Syracuse NY 13057
1455 South 5000 West Suite C
Salt Lake City, UT 84104
Communications Division Contacts
5703 Enterprise Parkway
East Syracuse, NY 13057
Check Repair Status Information Center
Frequently Asked Questions
A. Generally, evaluations will be completed within 3-5 business days.  Once the evaluation is complete, the technician will be able to determine the next course of action (ie: order parts, make an estimate, more testing).
A. United Radio does not sell parts; however, we do sell accessories.
A. Sorry, United Radio does not sell or repair scanners.
We have begun to repair amateur ham radios.
A: You have 30 days from the ship date.
A. You will need to contact a Customer Service Representative to set up a repair. We are unable to do exchanges on damaged units.
A. This would depend on what is needed for the repair. If a part is needed to be ordered, that will increase the time of the repair.
A. We request credit card information at the time of arrival, however your card will not be charged until the unit is ready to ship.
A. Yes!  Our Customer Service group will be in contact by phone and/or email.  We also have a live chat feature that is available as another form of communication with our customers.
A. Appropriate face covering is required to enter the building:
Automotive Electronics: open between  8:30 a.m. and 5:30 p.m., no appointment necessary (Automotive clusters please go to our 5717 building).
Consumer Electronics: by appointment only, please call 315-446-8700, to schedule product drop-offs and pickups.
Communications Division: open between  8 a.m. and 5 p.m., no appointment necessary.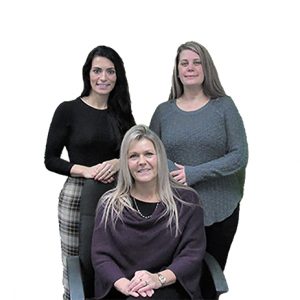 We put customer service above everything else. Our friendly and personable customer service representatives are available to help you.
Dedicated. Inspired. United.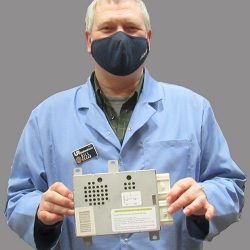 Not a 5-star, but a 10-star review
United Radio has been known to get 5-star reviews from customers on our Google My Business website page.
But a 10-star review? That's unheard of, especially since 5 stars is as high as a reviewer can go.
However, United Radio customer Etien Gonzalez felt that the service he received from our Bill Regan and his Chrysler Feature team in the E2A building, warranted 10 stars. This piqued our curiosity. Here's the story.
"Etien was having a problem with the courtesy lamps in a 1999 Prowler that belonged to his
mother." explained Bill Regan, a 36-year employee with United Radio. "She liked to take the car out on trips around her Florida home on weekends. The way Etien described the situation, it sounded like an intermittent electrical problem, so we asked him to send us the Prowler Body Controller to look at."
One issue Bill's team had to deal with in trying to solve this problem was getting the test equipment to work properly, especially because the software updates for the 1999 Prowler have been discontinued for some time. Eventually, Bill's team felt they had the problem solved and sent the unit back to Etien. Unfortunately, the problem persisted.
"That's the nature of electronic devices, especially with intermittent problems, you think you have it solved, you test it and the unit works fine, but when the customer gets it back, this issue appeared again. Sometimes the solution is cut and dry and other times they aren't, and it takes some time to figure out.  All my techs are really good at figuring out these issues. Matt Daniels was really helpful on this particular project."
But, to help provide a quick solution for this customer, Bill had Etien send the unit back and, in turn, giving an exchange for Etien, and returning it back to him at no extra charge.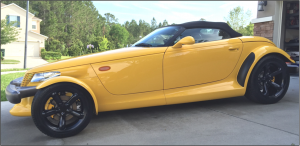 "That solved the problem and made Etien happy," said Bill! "I talked to Etien on the phone a couple of times during this process and the last time to make sure the unit was working properly in the car. The car was working fine, and his
mother is happy. That's the main thing. If you don't have happy customers, they will find other places to go. I still
remember taking our Customer Care course in the 90's with Arnie teaching it and this was one of the first things he had us learn.
You can have customers who will tell you they are not happy right away, and you can work to solve that problem. You can also have customers who will not tell you they are unhappy, but they will tell 20 of their friends that they are not happy with our service and those 20 friends could tell 20 more and all the sudden you have a bad word of mouth
situation. That's one of the worst things that can happen. So, you just want to make sure the customer is happy and the best way to do that is to ask."  Here is the review that Etien wrote by visiting our Google My Business page!
Read More
Automotive Division donates lots of food to local charities
The United Radio Automotive division held a competitive can drive benefitting Interreligious Food Consortium, Food Bank of CNY, and Real Life Center of Georgia during the first two weeks of February, splitting employees into three teams:
Food Finders:  Captain
Barbara Kearse, Co-Captains Maggie Sacco and Tammy Young
Included Denise Nettnin, Paula Essel, Mike Fabery, Shannon Comins, Quality, Customer
Service, Harman, Harman Support, NSI, Chrysler Feature, HR, Radio Sales, Research & Development
Can Collectors: Captain Karen Squadrito, Co-Captain Kelly Angiolillo
Included Keith Martin, Cheryl Hughes, Philip Moore, Adam Jewell, Dan DeLutis, Parts, Warranty, Delco/Import, Denso, Chrysler Audio, Panasonic/Panasonic Support,  Shipping/Ainsley, Ford Audio/Ford Support, I&D/Ford Cluster/Deohna Evans, Reman
Hunger Heroes: Captain Donna Tompkins, Co-Captain Keith Denton, Peachtree City
Teams accepted cans, boxes, and monetary donations with an added goal to see who could collect the highest number of chicken noodle soup (one of the most popular food bank items).
Teams could also earn extra 'mystery dollar cans' by answering daily questions posed by the Kelly Roesser of the Quality Department.  The earned cans had an extra dollar amount attached to them to be put toward their team's monetary donations.
Though the competition was pretty stiff, Can Collectors net a win on both cash donations and chicken noodle soup and Food Finders topped the teams with total pounds donated.
Overall, the division was able to collect 2,534 total pounds of food which included 1,078 cans of chicken noodle soup, and $608.
A huge thank you to all the Captains, Co-Captains, all who generously donated their time, money, energy, cans, and boxes of food to the worthy cause.  A special thank you goes out to Vince Christian who handled all the logistics and weighing of the donations, and to Shelley Mitchell for posting our daily leaderboards in the department digital dashboards.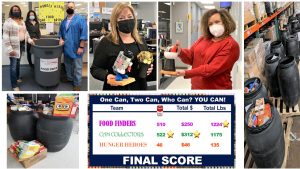 Read More