Need to get in touch with us?
You can find our Automotive, Consumer and Communications division contacts by clicking on the arrows below.
Automotive Electronics Contacts
5705, 5017 Enterprise Parkway
East Syracuse, NY 13057
780 Highway 74 South
Peachtree City, GA 30269
Consumer Electronics Contacts
5717 Enterprise Parkway
East Syracuse NY 13057
1635 South 5070 West, Suite A1
Salt Lake City, UT 84104
Communications Division Contacts
5703 Enterprise Parkway
East Syracuse, NY 13057
Check Repair Status Information Center
Frequently Asked Questions
A. Generally, evaluations will be completed within 3-5 business days.  Once the evaluation is complete, the technician will be able to determine the next course of action (ie: order parts, make an estimate, more testing).
A. United Radio does not sell parts; however, we do sell accessories.
A. Sorry, United Radio does not sell or repair scanners.
We have begun to repair amateur ham radios.
A: You have 30 days from the ship date.
A. You will need to contact a Customer Service Representative to set up a repair. We are unable to do exchanges on damaged units.
A. This would depend on what is needed for the repair. If a part is needed to be ordered, that will increase the time of the repair.
A. We request credit card information at the time of arrival, however your card will not be charged until the unit is ready to ship.
A. Yes!  Our Customer Service group will be in contact by phone and/or email.  We also have a live chat feature that is available as another form of communication with our customers.
A. Appropriate face covering is required to enter the building:
Automotive Electronics: open between  8:30 a.m. and 5:30 p.m., no appointment necessary (Automotive clusters please go to our 5717 building).
Consumer Electronics: by appointment only, please call 315-446-8700, to schedule product drop-offs and pickups.
Communications Division: open between  8 a.m. and 5 p.m., no appointment necessary.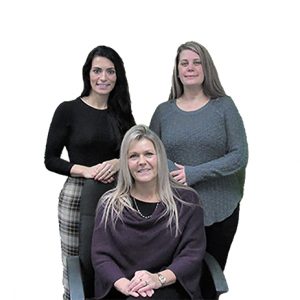 We put customer service above everything else. Our friendly and personable customer service representatives are available to help you.
Dedicated. Inspired. United.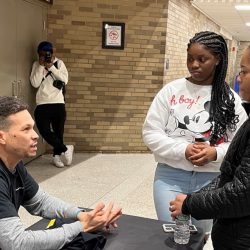 Dion Ford goes home to attend "A showcase of Black Excellence"
Some people believe the saying "you can't go home again," which means "past times which are fondly remembered are irrecoverably in the past and cannot be relived."
Doin Ford is not one of those people.
Dion recently attended an event at his former high school in Syracuse, New York, Henninger, for "A showcase of Black Excellence". According to Dion, this event is held every year during Black History Month and the school invites individuals of color to speak and answer questions about their profession and how they got there."
We asked Dion some question about his participation in the event:
Q. Why did you decide to attend?
A. I decided to attend because I once roamed the halls of Henninger High School and walked in the shoes of many of the students. I feel I can relate to them which gives me and my story credibility. I also feel it's important not to forget where you come from and to give back when you can. There are enough bad examples of what not to do we need to counter that with positive examples.
Q. What did you explain to the students you spoke with regarding your career?
I explained how I came from a very low-income household, that resonated with some individuals. I also explained how there are many resources available to help them achieve success. The military was my catalyst to success where I learned a trade and earned money for college which I put to use once I served my time. You trade four years of your life for a college education. That led me to 18-year career at United Radio where I was afforded the lifestyle I enjoy now.
Q. What were some of the questions you received from the students you spoke with?
What was the Navy like? How much money for college can you earn? What is my job at UR? Where have I traveled while in Military? What was my job in the military?
Q. Would you like to do something like this again?
Absolutely! I truly enjoy being a mentor, especially to the underserved.
Thank you Dion for taking the time to participate in this event. This is a fine example of our United Radio core value, "We have a responsibility to each other to create a better community."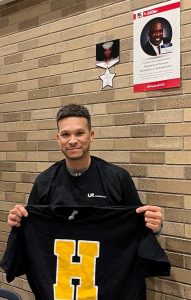 Read More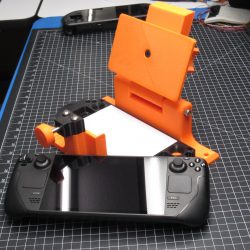 Consumer, Automotive R&D Innovation Lab team up for customer solution
When the Valve company approached our Consumer Division looking for a productive way to remanufacture broken Steam Deck gaming devices, Business Development Manager Mark Daily turned to the United Radio Research and Development Innovation group for a solution.
Mark Daily approached Dan Marafino, Product & Process Design Team Lead Engineer, with a challenge. Could he create a jig that would allow United Radio repair technicians to replace the LCD modules on the Valve Steam Deck for this new repair program that is set to launch in our Salt Lake City facility.
"Dan took the challenge and ran with it," said Mark Daily. "His vision and experience aided in developing this design. What he created meets our needs and looks really cool!"
Dan explained the creation process. "The design of the assembly started with downloading the 3D model of the Steam Deck from the open-source repository for the project. Using the provided 3D model, it was imported into Solidworks and the fixture was designed around it in multiple pieces. Once designed it was then printed using a few of the 3D printers in the RDI lab including the Prusa i3 Mk3 and the Creality CR10 V3. The model was printed
using a combination of PLA and Polycarbonate for the latch."
"The Steam Deck Clamp Fixture device that the Dan's group created, allows the Consumer Division to provide an
in-house solution for the application of the display panel onto the Valve Steam Deck gaming device," said Daily. "Having this mechanism will provide us with a solid process that will allow us to process the repair and avoid sending the unit back to the OEM for a display replacement."
The plan is to develop three Steam Deck Clamp Fixture devices for use in Salt Lake City.
"The Consumer Division would like to give a big shoutout and thank you to the Automotive Product & Process Design group," said Jim Fitzgerald, Consumer General Manager. "It's this type of collaboration that allows United Radio to provide custom solutions for our customers."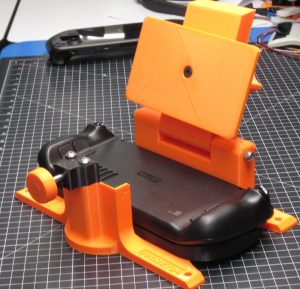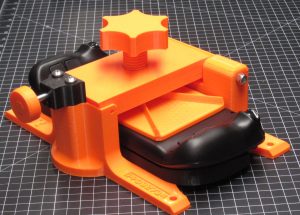 Read More