East Syracuse, NY — Radio communication equipment sees dust, water, heat, and other tough environments on a daily basis, which can lead to equipment downtime. The United Radio Communications Division UCare maintenance and service programs are designed to help ensure customer equipment performs optimally and never leaves them with an unexpected repair expense or system outage.
"At United Radio, we understand the commitment made in purchasing equipment that provides the safety and reliability to ensure everyone returns home," said William Dawes, United Radio Field Operations Manager. "Our UCare maintenance and service programs not only increases the longevity of your investment but provides a peace of mind knowing that when you need emergency support, you are our top priority."
The UCare program offers two levels of service to customers, First Class and Business Class. "These service level agreements not only reduce equipment downtime and costs but give our customers the satisfaction knowing they have support mechanisms in place." said Dawes.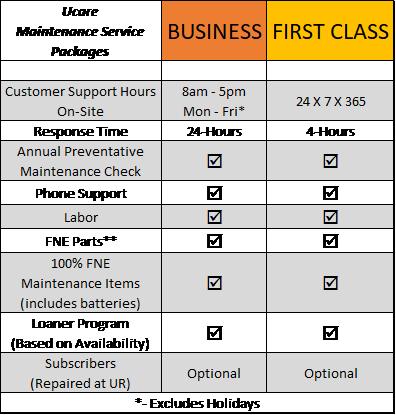 The First Class service level includes:
United Radio (UR) shall provide the Maintenance Services for Fixed Network Equipment (FNE) 24 Hours a day, 7 days a week, including holidays.
Upon notification UR shall create a service ticket and assign a technician who will contact the customer by phone to troubleshoot equipment within 2 hours. In the event the problem cannot be resolved over the phone, UR will dispatch a technician to report on-site within 4 hours.
An annual preventative maintenance check is included to ensure your system is operating at its optimum.
Any covered equipment/parts that are found to be defective through normal use, will be pulled and repaired, then re-installed and tested. Repair times may vary. This does not cover acts of God, including but not limited to physical abuse, electrical surge, or end of life.
FNE batteries and other maintenance items may be covered and replaced as needed to ensure proper operation. (ex: Bluetooth Location Beacons for TRBOnet systems as well as UPS's (Uninterruptible Power Supplies)
Down time is never good — we have an assortment of repeaters and subscriber units that are available to be loaned out at no charge in the event your original needs to be factory serviced. This is based on availability.
The Business Class service level offers the same features as First Class, but with a longer response time.
The Preventative Maintenance program includes these services and more:
Physically inspect the equipment and document its conditions
Clean dust and other particles, inside and out
Measure, test and restore to factory specifications
Ensure accurate transmitting and receiving frequencies in accordance with FCC license
Record battery voltage, condition, and service life
Check VSWR power of both mobiles and repeaters
Upgrade equipment with most current firmware, if requested
For more information contact William Dawes at 315-445-3260 or visit https://www.unitedradio.com/industries-we-serve/communications/
United Radio provides repair and remanufacturing solutions to electronics manufacturers worldwide. Focusing on automotive and consumer electronics, communications products and advanced research and development. The nearly 100-year old company has established itself as a world leader in creating innovative solutions to the emerging technological needs of our customers. Headquartered in East Syracuse, NY, and with a repair and distribution center in Peachtree City, GA, and Salt Lake City, UT. The company works with both Fortune 500 companies from around the world and first responder agencies across New York state.
Contact: Pat Spadafore
Marketing Manager (315) 470-2211
pspadfore@unitedradio.com